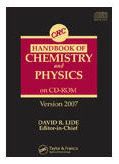 The Handbook of Chemistry and Physics on CD-ROM, Version 2007 provides a thorough range of critically evaluated data in a convenient, electronic format. This CD-ROM edition contains all of the information found in the 87th print edition augmented by a range of special utilities, such as structure searching, interactive data management, cross-table searching by topic or structure, and powerful data selection tools that allow you to customize the display and export data.


This year updates and expands many of the most heavily used tables in the book, including:
Physical Properties of Inorganic Compounds - Features nearly 25% more compounds
Enthalpy of Fusion - Contains updated values and 20% more compounds, especially inorganics
Bond Dissociation Energies - Includes 70% more compounds, including for the first time more than 1200 molecular ions
Table of the Isotopes - Brought up to date with research results through the year 2005
Inorganic Ion and Ligand Nomenclature - Incorporates new rules from IUPAC for systematic names
Chemical Carcinogens - Updated in accordance with the recent report from the National Toxicology Program
Global Temperature Trend - Traces the rise in mean global temperature for the last 150 years
Download this files


http://www.filefactory.com/file/be7ff4/
http://www.filefactory.com/file/065749/
****jaarsmtd.blogspot.com does not stores any files on its server. jaarsmtd.blogspot.com does not reserve any rights to, nor claims copyright to, any software names listed on these pages. All references are copyright to their respective owners.