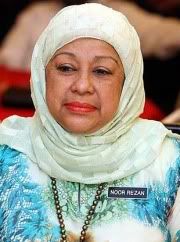 Noor Rezan says that while teachers should rely on their knowledge and expertise they should not dismiss other educational tools
PROGRESS in the country's education system as mapped out by the National Key Result Areas (NKRA) can be achieved only if educationists are willing to embrace and adapt to change.
(The Education NKRA is the platform and initiative to improve the students performance in schools apart from providing them with the access to better education quality.)
Education Deputy Director-General (Educational Operations Sector) Datuk Noor Rezan Bapoo Hashim said educationists must be willing to deal with issues and the various challenges ahead to ensure that all plans mapped under the 10th Malaysia Plan (10MP) are a succcess.
Teachers should make make it a point to upgrade their skills especially in today's digital era where changes are taking place at a rapid rate.
Citing an example of English Language teachers with many years of experience, Noor Rezan said that while these teachers have the knowledge and expertise, they should not dismiss other teaching tools that come with technology such as the Internet and computer software as these tools would only enhance their teaching skills.
New approach
The methods of teaching before were with textbooks and the blackboard, but the methods of educating children these days are through various technological tools which is why teachers have to be adept at using them. she added.
Teachers must make an effort to learn how to use the computer as their students are 'savvy' at using the machines, she said.
As educators, teachers must be prepared to adapt as the use of Information and Communication Technology (ICT) helps them improve classroom teaching, added Noor Rezan
"They (teachers) must be open-minded and be aware that children of today are more Internet savvy and are not so receptive to taking down notes from the blackboard.
Teachers who only rely on textbooks will not be able to move up, or keep abreast of new developments, she said.
She also called on the teachers to focus on improving their students' performance as it will improve their respective school's standing, which in turn will enable the school to achieve the High Performance School (SBT) status.
Securing such credentials were necessary as they were in line with the country's effort in achieving developed status by the year 2020.
Noor Rezan said the ministry's objective was to have another 30 schools with SBT status next year apart from the existing 20 schools with similar status.
The 20 schools include 14 secondary schools and six primary schools. Ten of the secondary schools are boarding schools while the rest are day schools.
Education Minister Tan Sri Muhyiddin Yassin who is also the Deputy Prime Minister had said earlier that based on the ministry's Key Performance Index (KPI), there would be 50 such schools by 2012.
On incentives for headmasters and teachers, Noor Rezan said it was to help them achieve better performance for their schools.
"The success of a school does not only depend on its teachers, but from the support of its students' parents.
"Teachers who are committed in dispensing their tasks will be rewarded with incentives."
Apart from the Outstanding Teacher Award, there are also awards for innovative teachers together with incentives in the form of promotions and scholarships for exemplary teachers.
On the Literacy and Numeracy (Linus) programme, Noor Rezan said the programme is geared towards ensuring that all Malaysian children without learning disabilities, are able to read and write Bahasa Malaysia and do basic mathematics by Year Four.
Beginning this year, all Year One pupils will be screened three times a year — in March, June and September — to identify those who do not meet the required reading, writing and counting standards.
The ministry has already set aside an allocation of RM400 mil for the programme for 2010 to 2012.
"So far we have trained 15,500 facilitators and rehabilitation teachers for the programme," she added. — Bernama